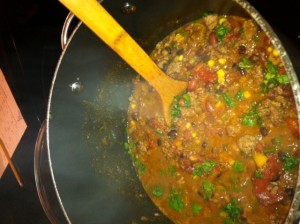 When the weather gets cold, there's nothing quite like a bowl of chili to warm your belly and your spirits.  It smells great while it is cooking and is even better the next day. This recipe easily lends to adding what you might have in your fridge and pantry.  I had some portobello mushrooms that I tossed in there, just because they needed to be used up.  Don't let the long list of ingredients dissuade you, as it's more than likely what you may already have on hand. I also love the smoky heat that chipotle pepper gives, but feel free to sub jalapenos or delete altogether. This goes great over rice and sprinkled with sharp cheddar and a dollop of sour cream.
Beef and Bean Chili
Saute:

1 tablespoon olive oil
1 medium onion, chopped
2 ribs of celery, chopped
1 bell pepper, I used a yellow one because that's what I had
4 cloves of minced garlic
1 chipolte pepper, chopped fine

Add:

1 1/2 pounds of ground beef (can also use ground turkey, pork or a combo if you'd like)
2 teaspoons dried oregano
2 teaspoons dried cilantro
1 teaspoon garlic powder
1 tablespoon cumin
1 tablespoon chili powder
1/8 teaspoon red pepper flakes, or more to your taste
1/2 teaspoon salt
1 teaspoon pepper

Add:

1 bottle of beer
1 can of mexican stewed tomatoes (can also sub can of tomatoes with green chiles, or tomatoes with a small can of green chiles)
1 can of diced tomatoes
1 beef bullion cube (can also use a can of beef broth, you just might need to simmer longer to desired thickness)
1 can of black beans, drained and rinsed
1 can of kidney beans, drained and rinsed
1/2 cup frozen corn
2 tablespoons fresh cilantro
Heat olive oil over medium heat.  Add vegetables (onion through chipotle) and saute for about 5 minutes until soft.   Next, add ground beef and spices.  Saute until meat is no longer pink, breaking up as you cook it. Next add beer, simmering for about 5 minutes.  Then add tomatoes, beef bullion, and beans.  Simmer over low heat, covered for about 45 minutes.  Add corn and heat through without lid, about 10 minutes.  Remove from heat, add cilantro.  Enjoy!