This is one of the terrific ways I've found to repurpose the bird after you get tired of the same old platters after a couple days.  This version of chili does not use tomatoes, and is a delicious twist on an old classic that you can sub chicken for as well.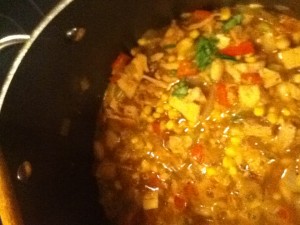 White Turkey Chili
1 tablespoon Olive oil
1 large chopped onion ~ about 2 cups
1 small chopped red pepper
3 ribs of celery, chopped
1 tablespoon chipotle pepper in adobo sauce (I usually take what I need from the can, and freeze the rest in a ziploc bag to use later)
3 chopped garlic cloves
3 cups chopped, cooked turkey (or chicken)
2 cans cannellini beans, rinsed and drained (or you favorite white beans)
2 cans chicken broth
1 small can diced green chiles
1 cup corn
1 tablespoon cumin
1 1/2 teaspoons chili powder
1/4 teaspoon salt
1/2 teaspoon pepper
1 cup milk
1/2 cup chopped cilantro
Heat oil in large stock pot over medium high heat.  Add onions, celery, red pepper, chipotle, and garlic.  Saute until soft, about 7 minutes.  Add turkey, beans, broth, green chiles, corn, cumin, chili powder, salt and pepper. Bring to a boil and simmer for about 20 minutes.  I use an immersion blender and give it a few whirs to thicken–it give it a creamier consistency.  You can also use a potato masher and mash to desired consistency as well.  Add milk, and simmer for another 20 minutes, stirring occasionally.  Top with fresh cilantro.  Goes well with the usual chili accompaniments:  sour cream, cheese, hot sauce.