Fall was in the air. And so were the leaves.  After a full day of raking, I was looking for a big bowl of comfort, and this ended up being whatever was quick and easy in my pantry. I'm sure you could certainly substitute whatever veggies you have on hand or skip something that is listed, and it would still warm your belly in a great way as I think this would taste great even with some tweaking.  The carrots, celery, garlic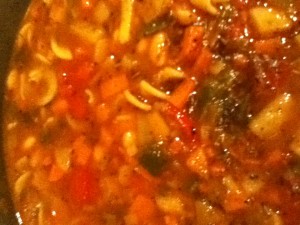 and onion probably add the most flavor–everything else is fairly interchangeable with what you like/have on hand.
Kitchen Sink Soup
4 oz pancetta (I'm sure chopped ham or bacon could be an easy substitute, but it was what I had on hand)
2 diced carrots
3 ribs chopped celery
1 cup onion
1 chopped red pepper
2 diced potatoes
3 garlic cloves, minced
1 leek, rinsed thoroughly and chopped (again, one of those things I had on hand so I threw it in there)
2 cans chicken broth
1 can diced tomatoes
1 can cannelli beans, drained and rinsed
1 teaspoon rosemary
1 teaspoon sage
1 1/2 teaspoon thyme
1 teaspoon salt
1 teaspoon pepper
handful of your favorite pasta, tubetti or macaroni is a good choice
Saute pancetta in a large soup pot until some of the fat renders and it browns slightly.  Chop the veggies (carrots through leeks) and add them to the pot with the pancetta. (I just added and stirred as I was chopping to save time). Saute veggies for about 7 minutes over medium high heat until softened and they are starting to brown slightly. Add chicken broth, tomatoes, 2 cans of water, cannelli beans, rosemary, thyme, sage, salt and pepper. Bring to a boil, then simmer for about 30 minutes.  Add handful of pasta and cook for about 10 – 15 minutes further until pasta is cooked.  This goes well with a sprinkle of Parmesanan to taste.  Enjoy!