I'm not above embarrassing myself in the interest of a good laugh. A friend of mine not so long ago posted a most lovely (LOL in a big, big way) picture of myself from my old college days on Facebook.  I do indeed love Facebook, but it does encourage folks to dig into the depths of their closets to pull out lovlies like the one below for entertainment value at your expense. I have no earthly idea when it was taken.  Must have been a memorable moment, aye? I can only tell you that it's not my room, as I didn't have a phone or a desk that looked like this. Anyway, thought I'd do a little recap of some of the things that I remember from the 80's as I graduated from high school in 1985, and attended Penn State at the main campus where this photo was taken between 1987 and 1989.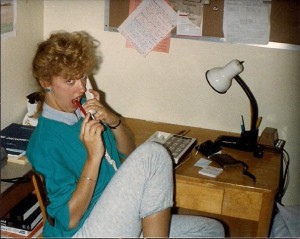 I really can't go into detail about the era that I blossomed into adulthood until  I discuss some of the things worth noting from the picture. I do remember that I often matched my earrings to whatever outfit I was wearing.  Now seriously, who happens to have an aqua-ish piece of jewelry to match this smashing ensemble that I was sporting that day?  Obviously I did! Another thing that you might happen to notice was the hair.  Ah.  Those were the days of the perm!  I had so much hair, I remember it took at least 4 hours out of my day for this salon service which resulted in this stylish coif. To complete the do, I most certainly was using Aqua Net hairspray to make sure it was appropriately held.  For those of you not familiar with this product, it probably had enough staying power to halt a picnic full of ants if you sprayed it on them.  One of the other things that makes me reminisce was the dear old phone that I'm using.  I remember back then, that I thought how modern it was that we didn't have to use a rotary dial anymore. But also, you've got to love the cord.  Could you imagine actually having a cord for your phone, where  you'd actually have to sit down at one location to make and take all your calls?  Kids today would be tortured!  Enough dissecting the photo, how about I talk about some of those things that bring a smile to my face from that bygone era.
Who could forget the classic Dirty Dancing, and the ballad that went along with it, I've Had the Time of My Life.  I remember at the time thinking it was an awesome movie.  How could you not cheer on Patrick Swayze and Jennifer Grey as they fell in love in such a scandalous fashion.  Who can forget the unforgettable line, "Nobody backs baby into a corner"? It's funny I happened to fall into watching this movie not too long ago while I was channel surfing, and couldn't believe how awful I thought it was–I was almost laughing as I was watching it.  I was kind of crestfallen, because I remembered really loving it back then.
The music from this time frame was legendary.  How could you go wrong with bands like U2, The Cure, R.E.M., the B52's and UB40 churning out ballads that inspired you to do nothing less but shout out the lyrics along with the music or turn the volume up so loud that you could hear the bass thumping all the way out in the quad.  With or Without You; Red, Red, Wine; It's the End of the World as We know it; and Love Shack. Ah the memories.  I still find myself swaying, stomping and singing to the tunes should I happen to hear one of these babies making its way to the airwaves.
I've already touched on some of the classic styles evoked by the photo above, but, there's more!  Who could forget how wonderful those knit legwarmers looked? How many people weren't sporting a Swatch watch? I absolutely loved my Jelly shoes–they were so cheap and comfortable how could you not own them? I used to think I was cooler than cool starching my color just so that it would stand up on it's own the whole night. I also recall adoring stretch denim jeans, as they were a way to wear tight jeans and actually be pretty comfortable! I also felt the inclination to find hair accessories to match the clothes I was wearing–as if it wasn't enough to just match the earrings.
There were some awesome ways to while away your time as well.  Where would today's video games be today without the forerunners that laid the ground work for the PlayStations and X-boxes of today–games introduced by the legendary Atari.  Asteroids, Defender, Pac-Man and Night Driver to name a few. I'll never forget how excited I was that I solved the Rubik's cube.  I have no earthly idea how and probably would have a hard time repeating it–but damn it, I did it! None other than Trivial Pursuit brought back alive the concept of family game night.  We used to play for hours at a time, trying to get all of those pesky wedges in the pie to win.
Who can forget that much heard phrase from the Wendy's commercial, "Where's the Beef?" Um.  Like. Ah, I dunno.  Fer shure. Gag me with a spoon. We can credit the good old Valley Girls tune for such eloquent every day words to live by. Bruce Willis in Moonlighting solidified a beamer as a status symbol to strive for. Who didn't enjoy sitting down and laughing with Sam and Diane to watch an episode of Cheers? I used to really get drawn into watching McGuyver and thinking how cool it was that he could take normal, everyday things to get him out of the tightest jams.
In closing, there were some cherished memories relating to my own personal triumphs. I turned 21 during this time frame.  Who doesn't remember the first time you were able to pull out your license to verify that you were finally an adult?  I'll bet my mom still cringes as I pulled up to her house visiting from school in my first "new" car.  New, for me, that is.  It was a silver datsun 310-GX that had a really interesting tiny picture of a horse painted below the locks of the door.  It was a hatchback car with, get this, a wire hanger weaved through the hood to keep it closed.  Man I loved that car, not because it was shiny and new, which it decidedly was NOT.  But, because it was actually mine. Who knows how on earth it actually made the 3 hour plus trip back and forth to Philly? I must have one super fine guardian angel watching over me. I can remember taking a road trip down to Key West one year.  Thankfully, I rented a car, so I didn't have to worry about my car making it. In fact while I was in Key West, the gas tank of my trusty Datsun had rusted out and I had to have it replaced when I returned.  I remember it took us 26 hours, sharing the trip with my boyfriend at the time. It was quite a triumph. I'm in awe thinking back, as there'd be no way in hell I'd be able to make that trip today without falling asleep and needing to stop for the night.  Of course I have unlimited wonderful memories from all of my years at Penn State.  I shared some unforgettable memories with many of my friends that will never fail to bring a smile to my face. What a great way to end an era than topping it off with your college degree?
Even though the 80s had its memories to note, I'm glad it's a chapter in my past.  Not because it was a bad chapter, but because all of the eras of your past make you who you are today, and who you have become for better or for worse.  I'm thinking it's for the better, and hoped you've enjoyed the trip down memory lane.  I know I did.